It's that time of the year again... the Sephora's VIB and VIB rouge sale is in town!
What do I look for in a lip product? Colour selection, moisturizing, and packaging. Any lip product that lives up to my standards for these 3 factors, I will or have already tried and bought. I wanted to share with you my top 5 favourite lip products. Since all except one are higher end, it is the perfect time to take advantage of this sale and discover some new goodies.
1.Make Up For Ever Rouge Artist Natural Lipstick
I'm not even kidding, the specific shade N9 in this collection is a magical product. It has the universal ability to adjust to the pigmentation of your lips and looks good on everyone. This lipstick is super moisturizing yet opaque, the best of both worlds. It's also considered reasonably priced for a higher end lip product.
2. Bite Luminous Creme Lipstick
Although it is not the most moisturizing lipstick, the colour selection and lasting power of Bite lipsticks are almost incomparable. I also love the chic look and feel of the matte packaging.
3. Buxom Full-On Lip Polish
I'm usually not a big fan of lip glosses but this one is an exception. There formula has a plumping sensation that makes your lips tingly and minty. It also has a really nice consistency, unlike the sticky feeling you get from other lip glosses.
4. YSL Rouge Volupte Shine Lip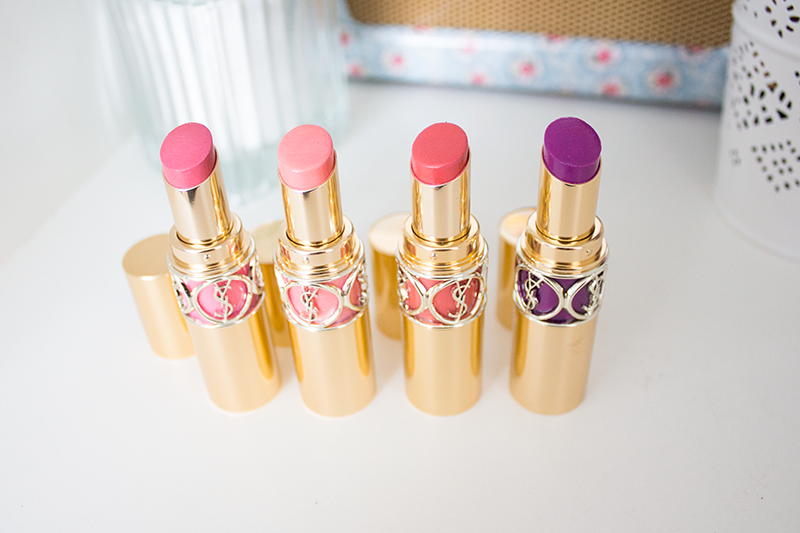 If YSL lipsticks aren't luxury, then I don't know what is. The packaging is so gorgeous, I almost stop myself from using it. But, I also love the formula of the lipsticks as it's a sheer finish. They also smell divine.
5. Revlon Lip Butter
The Revlon lip butters are seriously the only drugstore lip product... actually the only drugstore makeup product in general that I use. The formula is comparable to the YSL Volupte Shine, also a translucent finish. I have 3 of these that I swear by.
As you probably noticed, I tend to gravitate towards lip products with a buttery finish. Although I love the occasionally matte lip, these product prove to be more practical and versatile. Here are some swatches.
In my opinion, it is perfectly acceptable to walk out of the house with a bare face but once you swipe on a bright lip colour, you're immediately presentable. I am definitely a lip junkie.