Cyber Monday - the day that drains the bank account of those who have no self control....aka me.
This year I told myself to, for a lack of a better phrase, calm the eff down. However my inner materialistic possessed demons were urging to come out. Guess what, now I'm officially broke. But what is the point of going through all this torture if I don't show you guys the result of my problems.
The Outnet
Brian Litchtenberg "Féline" beanie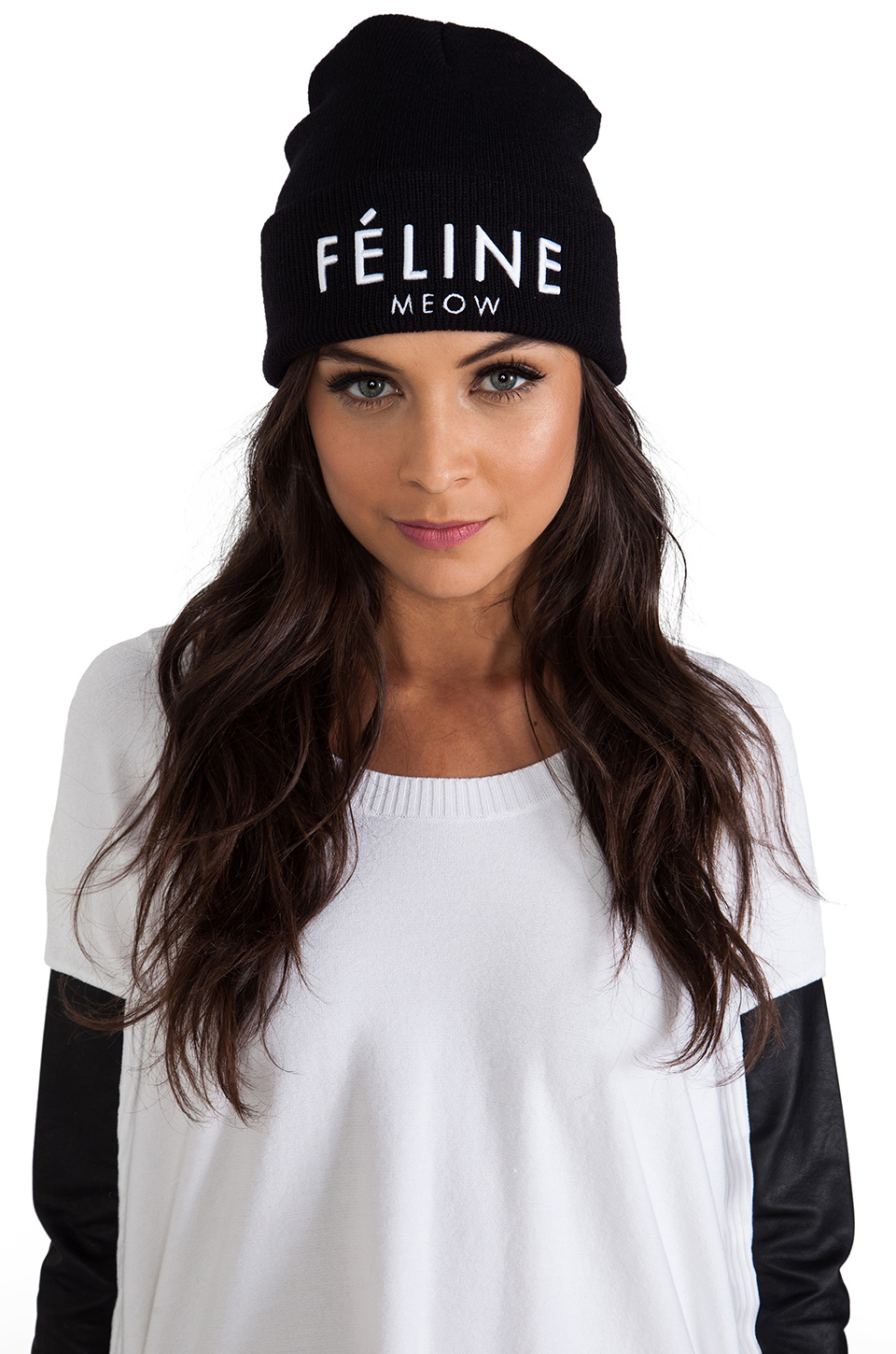 I've been on the hunt for a beanie since the first snowflake landed on my head. Unfortunately having an abnormally small forehead (or should I say threehead) makes hat shopping a pain. One thing I discovered is that the only type of beanie that doesn't look ridiculous on the forehead deficient are the ones with writing at the front. The contrast makes your forehead appear larger and rounder. When I saw that the Outnet had Brian Lichtenberg merchandise I immediately hopped on that train and bought myself the first of many early Christmas gifts to myself.
Aritzia
J Brand "Ace" boyfriend jeans
(also love
these
)
One of the best feelings in the world is crossing an item off our wishlist. I've been coveting a pair of J Brand boyfriend jeans for probably a year now but never got the urge to splurge on one until now. Can't wait to style these!
Shopbop
BlankNYC faux leather jacket
(similar style from
Zara
)
Another clothing piece that was on "things to buy in 2014" list was a leather jacket. However, being the indecisive person I am, it was difficult to decide on a real leather jacket so faux will do (for now). This one by BlankNYC was at an unbeatable price so I just went for it. I love how the colour is a dark brown, almost black, so it is super versatile. The style of this was everything I wanted in a leather jacket; it's perfect!
Gilt
Free People thermal top
Please welcome me as I have officially joined the land of the basics. Free People is one of those brands that I always wonder why it's so damn expensive. After speculation, I've realized that it is because their clothing is distinctive on top of being great quality. Even for such basic shirt like this one, you can tell the difference with the stitching and cut. I thought this top would be the perfect layering piece to wear underneath my new faux leather jacket paired with leggings or jeans and tall boots. Voila! The go-to fall/winter ensemble.
Little Burgundy
Chinese Laundry "Riley" boots
Don't these look exactly like the
Stuart Weitzman 5050 boots
. There's just a slight difference that saved me from splurging and choosing this pair from Chinese Laundry instead... the toe shape. I just couldn't get over the boxed toe of the 5050, maybe it's more high fashioned but just not my style. Anyways, I think having these will force me to dress more ladylike and less sweatpants-haired tied-chilling with no makeup on. You can't wear sweats with these.
Starbucks
Bodum "Chambord" Coffee Press
Besides my online shopping obsession, I am also a coffee addict. Recently, instant coffee was no longer satisfying my needs for caffeine so I started to buy Starbucks again which we all know drains your wallet like no tomorrow. I was debating on purchasing a Keurig or Tassimo but that means I would have to resort to the pods which are both limiting and expensive. When I saw that Starbucks was participating in Cyber Monday, it was the perfect opportunity to get a French press. Let me tell you, I will never drink instant coffee again.
Now that I've spent half a paycheck on myself, it's time to start on some Christmas shopping.