I swear at the beginning of every month, I think where did time go? Last month instead of going back to school like I did for the past 13 years, I started a job. This not only means do I have to wear decent clothes, but my face needs to look put together as well. I like to keep my makeup look minimal and simple, using only a few essential products. In September, I made a huge order on Sephora.ca and ventured into Buxom and Tarte and I fell in love. So here are some of my beauty favourites for the past month.
Makeup
1. Buxom Full-on lip stick
My most loved and collected makeup product would definitely be lipsticks. If you ever look at my makeup collection, you'd probably wonder why a girl needs that many lip products. The thing I love about lipsticks is that it comes to so many different forms and formulations. After hearing nothing but positive reviews on the Buxom lipsticks. I decided to go ahead and purchase one myself. I opted for a dusty-pink nude shade because I know I can always work with it rather than a more risky colour. Let me just tell you, this product is amazing! The sweet smell juxtaposes with the minty sensation making this lipstick pen one of the best lip products I have ever tried. It comes in 16 different shades and is priced at $23.
2. Buxom Full-on lip polish
Although I usually prefer lipsticks and lip liners, the Buxom lip polish share too many similarities with the lip stick for me to ignore. It has the same pleasant vanilla scent and tingly after effect. The main difference is that this sheer lip polish leaves lips looking plump and juicy. I find this product to be very long lasting considering the fact that it is a lip gloss. The lip polish is available in 23 colours and there is also a lip cream version that offers a more velvety finish, also at $23 each.
3. Revlon lip butter
When the lip butters first came out, there was a undeniable hype surrounding this product and there is a reason why. It is buildable while still remaining creamy and moisturizing. I love how the darker colours are even more versitle because they can act as a sheer tinte or a dark lipstick that's perfect for fall. It is also reasonably priced at around $8 at any drugstore or department store.
4. Tarte Amazonian Clay 12-hour blush
Blush is another one of those products that ranges in price, colour and texture. In the summer, I occasionally wore a little bronzer because the heat would cause a natural flush to my cheeks but as the weather cools down, my skin tone also comes a couple shades lighter. I feel like finishing off your look with a little blush makes you look more awake and put together. I prefer a more coral peachy shade rather than a light or dark pink. So far, I've been loving my Tarte Amazonian Clay blush. I can't back up the 12 hours part, but it definitely lasts 8 hours as it stays on my face the entire day at work. You can purchase this product at Sephora in 15 different colours for $31 each.
Skin Care
1. Bioderma Creline
I bought this product a couple of months ago after hearing all the rave about it when it first came out. At first I didn't realize what was so special about Bioderma but when I used it again this month, I quickly realized it is indeed magical. The first thing I do when I get home is wash my hands and take off my face makeup. I love using this product with a cotton round, it even works on waterproof mascara. Also, I love how you don't have to wash your face after using it and it leaves your skin feeling clean yet not at all dry. Overall, I think this is the best makeup remover/cleansing water I have ever tried. However, I do use it sparingly since it was quite pricey for around $28 a bottle.
2. Michael Todd True Organics Knu Anti-aging cream
I've never been one of the those people who believe in taking precaution when it comes to premature wrinkles and using anti-aging cream could help prevent aging. But as I was browsing
Livingsocial
, I came across a deal that I couldn't pass up. I purchased it without thinking for $25. The Michael Todd Organics Knu Anti-aging cream retails for $150. For a second, I was in denial that people would actually spend that much money on a product that wasn't even part of a high end beauty line. After reading the reviews on the MT website, it was obvious that many people bought and loved the product despite the 3 figure price tag. The first time I put this product on my face, I immediately felt a tightening sensation in my skin. Now it has become part of my every day skincare routine. I can confidently say that it has been the number one contributor to how much the texture my skin has improved. Although I still experience breakouts, the rest of my skin remains smooth and elastic. This is why I feel justified paying that much money for another once the first was used up after 5 months.
Essie nail polish in It's Genius, Aruba Blue, Power Clutch.
Personally, I enjoy the look of dark nail polish on my nails so I opt for darker shades year round. But in the fall, I tend towards these 3 colours the most. It's Genius is a gorgeous vampy oxblood with hints of glitter. Aruba blue is a true royal blue which is my favourite colour to wear. Power Clutch looks like a very deep green that appears almost black unless it is in the light. Essie is my preferred brand because I feel like it has the best selection in terms of wearable colours and the formulation is better than most drugstore brands.
Chanel Chance Eau de Fraiche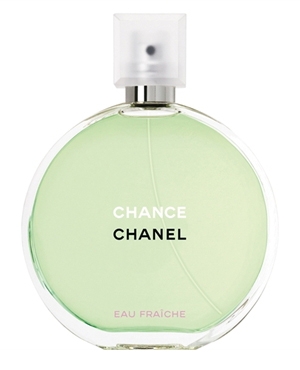 I've been reaching for my Chanel Chance perfume every morning. The scent is the perfect balance of fresh and sweet. I love how it is not overpowering but still lingers on your skin the entire day. This was my more worn scent for the summer and continues to be my most loved fragrance of all time. This perfume can be purchased at The Bay, Shoppers Drug Mart or Holt Renfrew for around $130 for 100ml
September was a month of many firsts and new trials. I hope this month is just as eventful.
P.S. I apologize for using pictures from the Internet. I really wish I could use my own photographed photos but they never turn out satisfying enough to put on my blog. Bare with me as I save up for a good quality camera.