The Inspiration: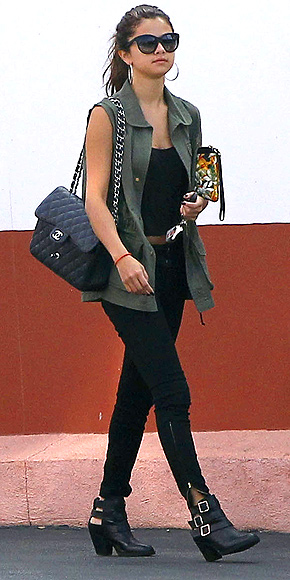 Jet by John Eshaya sleeveless vest (sold out)
Rag & Bone R2W Skinny jeans (on sale
here
!)
Jeffrey Campbell booties (buy
here
)
Dolce & Gabbana Foulard Print Cleo Clutch (sold out)
Chanel classic large flap
D&G sunglasses
I believe that this picture was taken late summer this year displaying this disney star's enthusiasm for fall fashion. This outfit is simple yet still manages to incorporate some of this year's biggest trends, the military jacket and cutout booties.
Since it is now midway into fall and we don't all live in LA, the vest would need to be substituted for a jacket in order to recreate this look.
This parka from
Zara
maintains this utility look but adds warmth along with a bit of edge from the leather quilted sleeves and gold zippers.
Although almost every footwear store sells variations of the cut-out bootie, Jeffrey Campbell was the first street fashion brand to carry multiple versions of this style. Therefore, I am loyal to JC and would much rather spend a little more on a good quality leather pair than a knockoff look-a-like from, say, Aldo (no offense).
The
Everly
boot might just be the most popular style when it comes to JC booties and I can see why. The cutouts and buckets gives off a punky vibe yet the structure of the shoe is simple and stylish. Also, the one inch stacked heel subtly elongates the leg without the discomfort of an arch.
As for the bottoms, any pair of black skinnies or leggings will do. If you're feeling bold, I suggest to go for a a pair of leather pants to add contrast to the outfit.
Now, let me talk about her bag. It almost hurts to say that I do not agree with her choice of shoulder bag for this outfit. I would have love to see a smaller crossbody instead. The Chanel flap draws too much attention away from the rest of the details of the outfit in an awkward way. However, I suppose to black leather does play well with neutral muted ensemble.
Overall, this is definitely an outfit I will be recreating using pieces from my own wardrobe.