You know have you have a problem when you make not one, not two, but 3 orders within 2 weeks. Zara is my biggest weakness, especially when it comes to online shopping. The fact that they have free shipping over $50 and it arrives at my door in 3 days makes it extremely convenient to click that checkout button without thinking twice about it. Also, the winter sale was nearing its end so everything was super discounted. As I was putting this post together, I realized how bad my problem has gotten. I need to be put on a shopping ban for the next couple of months. Nevertheless, let me show you the clothes I hauled since some are still available but selling out fast!
I purchased a mixture of winter appropriate clothing but also could not resist preparing for spring/summer fashion. I'm so over the cold weather, can we please move on already! I kept in mind the fact that I will be working on and off for the next couple of years so i started stocking up some office apparel.
SHEATH SKIRT WITH ZIPS
This skirt literally fits like a glove. It is so flattering because it is high-waisted and stretchy so it hugs your curves while the thick material and zipper details blurs out any excess lumps around that area. Also, the asymmetric cut makes the simple skirt more interesting and trendy, despite the length being perfect for an office setting.
Something I've been really into recently is tank tops with delicate straps, the thinner the better. Normally, I would stay far far away from floral patterns because it's just not my style, opposite actually, but this one is very subtle and compliments the lace. I think it is a great piece for layering but also on its own in the summer time.
HIGH NECK CASHMERE SWEATER (similar here)
I've always wanted a cashmere sweater, contrary to the fact that it is way out of my comfort zone. I've also been adoring the turtle neck sweater look so why not kill two birds with one stone. This sweater was a huge steal. It is 100% cashmere and so soft I can't even put into words. I think a cashmere sweater is an essential in any "mature" woman's wardrobe. It catalysts our transition into womanhood.


Due to my Asian short-legged syndrome, these trousers do not look the same on me as they do on the model. Nevertheless, I still enjoy the modernized look of the wide leg, especially worn with heel booties.
LONG SWEATER WITH TURN-OVER COLLAR
These trousers are probably the most comfortable pants I have. They have a flare shape which elongates your leg on top of the subtle vertical stripes. It is made of a super thick wool material which makes it ideal to be worn in the freezing weather we are having in Canada right now. Also, it seems like wide leg trousers are one of the biggest trends for spring 2014 so why not get a head's start.
If you know me and my closet, you would know that I can't say no to a knit sweater, especially one that is warm and over-sized. This sweater features a loose high neck which makes it less claustrophobic to wear for longer periods of time.
LINGERIE STYLE DRESS WITH SPAGHETTI STRAPS
I love everything about this dress! It honestly fits like a dream. Although the lace and thin straps would suggest it be more appropriate for the bedroom, the fabric of the dress makes it acceptable to be worn out. I feel like it is a great twist on a LBD which every girl needs.
I know what you're thinking, why is this girl buying shorts in -20 degree weather.... It's called preparation my friends. I love the relaxed loose fit in juxtaposition to the lace detailing.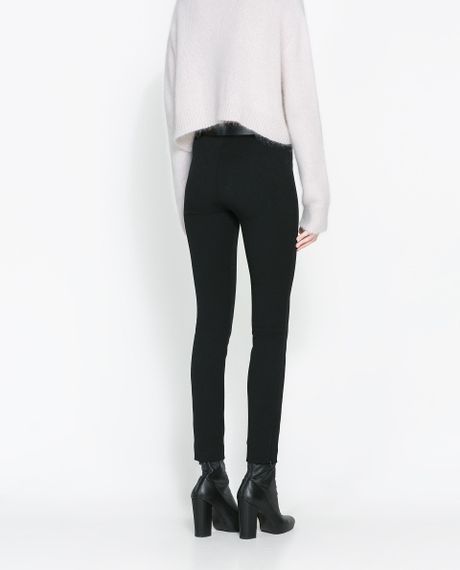 For all you hypercritical individuals out there, these are definitely "leggings" that can be worn as pants. They fit like very thick leggings, sucking you in at all the right places while being extremely comfortable but appear more like trousers.
Now part of the reason that led me to make so many orders was because I was checking daily hoping this top will come back in stock and it actually did! I've been eyeing it for months, but it retailed for a ridiculous price of $50...no thank you! Finally when the sale rolled around, I knew it was time to pick this baby up.

Now that this is done and over with, I am going on a shopping hiatus. Need to start seriously saving up for those Louboutins ...