One thing about the Oscars, it is as much of a fashion competition as the award show itself. Personally, I have a greater interest in watching the red carpet portion of the show, drooling over the beautiful gowns and outfits of the celebrities in question. In this post, I will be stepping out of my comfort zone and judging a type of clothing that is completely opposite from my style, anything elegant and "formal".
My favourite looks of the night:
Lupita Nyongo in Prada
I think Lupita deserves another award just for wearing this gorgeous Prada gown. The colour looks so beautiful on her skin tone and the low cut neckline perfectly contrasts the full bottom half of the ensemble. She kept her accessories minimal with some gold accents that accentuates the light blue hue of the dress.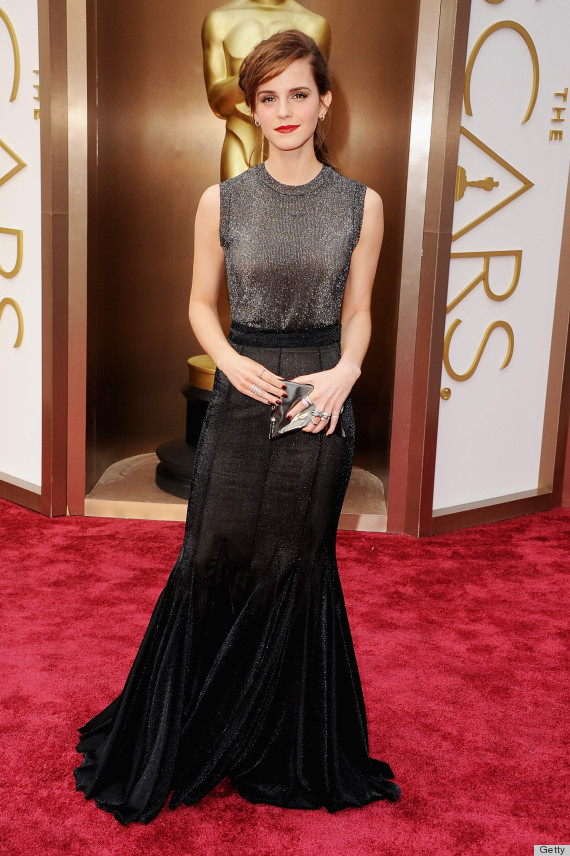 Emma Watson in Vera Wang
I think the biggest reason why I love Emma Watson's outfit for the Oscars is because it is very different from what we would expect to see on the red carpet. Her makeup was on point and the red lip definitely popped against her dark dress. I'm obsessed with the monochromatic theme in her dress and accessories but the hint of glitter adds some dimension to the look.
Honorable Mention
Charliz Theron in Dior
At first glance, this dress is absolute perfection... everything from the neckline to the mermaid skirt to the sheer layer and the subtle panels. However, as I was taking a closer look I realized there were rather obvious clear straps, which immediately reduced the sophisticated feel of the dress. I would have loved to see a more sharp and strapless cut. Nevertheless, she still looks gorgeous.
Seeing all these beautiful gowns makes me want to take out my prom dress and find an occasion to wear it.